"Resiliency Edge"
gives new meaning to the word N.I.C.E.™



Participants learn "tools" to Neutralize Irritations Customers Experience™
"Resiliency Edge" teaches airport and airline workers how to manage their pressures by solving problems for distressed travelers - no small task in today's turbulent aviation environment.
Participants learn how to "neutralize irritations" to create three winners: customers win because they get their airport problems solved; workers win because they reduce the source of their stress (upset travelers.) Airports and airlines win by gaining enhanced service levels.
Read examples of N.I.C.E. stories at participating airports: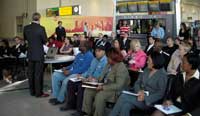 JFK International Airport

Pittsburgh International Airport

Manchester-Boston Regional Airport


Coming Soon: Stories from Newark Liberty and LaGaurdia Airports



Want to know how your airport or company can join in and benefit too - contact us at the Human Resiliency Institute at Fordham University for more information.
Return to HOME page.