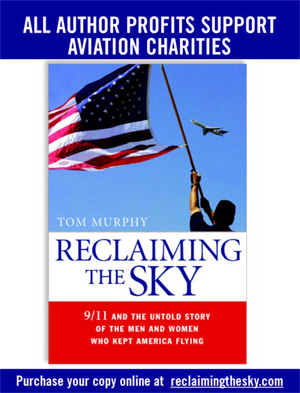 HOW TO GET A BOOK
To participate in the essay competition and answer the question, it is necessary to read the stories of the aviation heroes profiled in "Reclaiming the Sky."
Those who purchase a book will be contributing to our aviation charity partners - including WINGS and CAUSE, the American Airlines and United Airlines flight attendant charities, and the Betty Ong Foundation. The book's author, Tom Murphy, gives all profits to aviation charity partners.
You can purchase a book on Amazon, or through your preferred source.
At the same time, we recognize that many airport and airline workers have been furloughed during the Covid crisis, thus purchasing a book may be hard. That may be true also for students - including aviation students (college and high school) and general high school students - as well as military personnel.
We have enlisted sponsors to help cover the cost of providing free books to those who can't afford them. We're asking that anyone who does request a free book, however, commit to submitting an essay. Here's how the system of free books will work:
Airport and airline workers: if you wish to request a free book, send us an email to book@reclaimingthesky.com. Tell us your airport or airline and we'll be in touch (military vets from our edge4vets.org program will be administering this process.)


A donor has committed to provide 50 free books for this purpose. Again, if you request a free book, your word will be your bond and indication that you'll be participating - that way we can ensure free books go to those who promise to write essays.


Students: if you are a student, either at a University Aviation Association college or at a high school participating in this project, contact the rep at your school for a book. We're working with a group of "school donors" in each community where a school is participating to secure free books for participants at that school. (If you have a question about whether your school is participating, email us at book@reclaimingthesky.com.)
Back to JUDGES.
Back to AWARDS and AWARDS CEREMONY.
Back to HOME.

Tom Murphy
Director, Human Resiliency Institute at Fordham University, and President, Service Institute
Contact Tom at: Tom@TomMurphy.org