Aviation Charity UPDATES:
Including Fifth Anniversary
Remembrances


Click to enlarge
---
UPDATE: The CAUSE Foundation
www.thecausefoundation.org
On September 11, 2006, the fifth anniversary of 9/11 more than a hundred flight attendants and pilots from United Airlines traveled from eight bases to honor the crewmembers of United Flight 93. The sea of blue UA uniforms demonstrated the overwhelming support for those crewmembers and their families.
Following the Memorial Ceremony at the impact sight, the Flight 93 Chapel, approximately three miles away, was the scene of another Memorial and Dedication. The 93 CAUSES committee, led by Judee Beyer, Vice-President of The CAUSE Foundation, through fundraising efforts, purchased and dedicated a magnificent granite monument honoring the memory of the crewmembers of Flight 93.
The monument, an octagonal pillar, features engraved images of each Flight Attendant and Pilot, their wings, names and birthdates. It is located in the "Hero's Garden" behind the Flight 93 Chapel and surrounded by granite benches on which are engraved the names of the flight 93 passengers.
Each crewmember's family was presented a framed drawing of their family member's likeness on the monument.
Closing the dedication ceremony, a choir of UA active and retired flight attendants sang a beautiful anthem, "A Prayer for Our Time", written by Pamela and Joseph Martin after 9/11/2001.
The choir was directed by Kathy Ochenrider and accompanied by Cynthia Kurowski, piano. Also accompanying the choir were Kevin Davis and Paul Semanic, trumpet and they were joined in part by The North Star Kids, a children's choir from Pittsburgh.
Kathy Ochenrider, president of CAUSE, said, "The events of that emotional day will forever be in the hearts of all who participated and The CAUSE Foundation thanks everyone involved."
Judee Beyer added, "I couldn't have been prouder of our Committee. What we accomplished was amazing. The Monument is beautiful and the choir was incredible. Flight Attendants traveled from fourteen states (at their own expense) to sing. Very personal, warm and funny. Just the way the crew of 93 would have wanted it."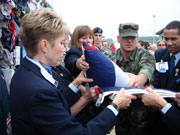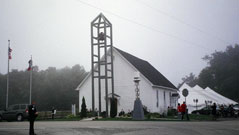 From Kathy Ochenrider, President:
Below is the link to order the DVD of our Shanksville experience. Mark Sommer has put it together with his video of the events and photos which were sent in by many of you. The price is $15 + shipping and a portion will be donated to CAUSE.
We're very grateful to Mark and Alicia for taking time to help us remember those days.
http://www.adastradesign.net/Shanksville.htm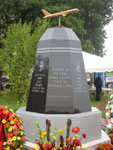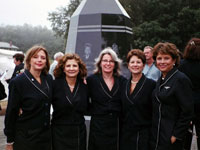 Click to enlarge
---
UPDATE: The Betty Ong Foundation
www.bettyong.org
From Cathie Ong, who created this foundation in honor of her sister, Betty Ong, a Flight Attendant on AA Flight 11: "We have affiliated with agencies in the community that serve as child advocacy agencies. Specifically, we have started aligning ourselves with schools because of the new mandate on nutritional food programs."
Background: Betty Ong was not only a physical fitness advocate, but she was devoted to children - as such her Foundation explores ways to promote physical fitness with young people.
Heather Lauter-Clay of Spirit in Flight led the organization for a Rembrance on September 11 at SFO. Cathie Ong was one of the speakers.
Contact Cathie at BettyOng.org

---
UPDATE: The WINGS Foundation
www.wingsfoundation.com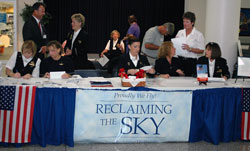 The Wings Foundation Inc. is a non profit organization formed and managed by American Airlines Flight Attendants.
Volunteers collect donations & administer support to all American Airlines Flight Attendants who are in critical need of financial assistance.
Assistance is available to those experiencing serious illness, injury, or disability and may also include those effected by a disaster or catastrophic event which ultimately causes a major financial hardship.
Volunteers from the WINGS foundation played a key role in the mailing out of the first copies of Reclaiming the Sky at the Pentagon on August 24 and at the Capital Hilton in Washington, DC on August 25. Photos below show some of those who participated in this leadership effort.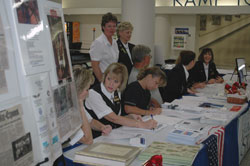 Click to Enlarge
Special thanks to all our American Airlines (and others) Volunteers
August 24th Volunteers at the Pentagon:
Kathryn Ajello, Debbie Bender, Cathy Collins, Kathy Crandall, Cathy Grainger, Nancy Eskau, Jim Carlton, Panda Kisela, Toni Knisley Wendy Duffman, Debbie Roland and Marty Brown.
August 25th Volunteers at the Capitol Hilton:
Kathryn Ajello, Lynne Watkiss, Cathy Collins, Jerry Naylor, Linda Souder, Panda Kisela, Carolyn Whisman, Carolyn Grubbs, Debbie Roland and Steve Bolognese.
---
UPDATE: Airline Ambassadors
www.airlineambassadors.org
From Nancy Rivard, founder and president: "Our vision at Airline Ambassadors is to amplify avenues of kindness and compassion through travel and bring long-term benefit to children and families in the developing world. By providing opportunities for travelers to become a living link matching resource to need, we increase understanding, sharing, and goodwill between peoples and cultures. Our goal is to substantively improve the lives of those in need and provide opportunities for ordinary people.
"Champions for Children"
CHAMPIONS FOR CHILDREN LAUNCHES DEC 01
A JOINT EFFORT BETWEEN AA, AIRLINE AMBASSADORS, UNICEF AND WITH THE ENCOURAGEMENT OF APFA, THIS NEW ENTIRELY VOLUNTEER PROGRAM, IS LED BY FLIGHT ATTENDANTS. YOUR SUPPORT IS CRITICAL TO ITS SUCCESS.
YOUR CHAMPIONS FOR CHILDREN TEAM: ROZ MOREHEAD, NANCY RIVARD, STEVEN ELLIS
For more information, contact (817) 931-8657

---
UPDATE: AirlineRide
www.airlineride.org
In March, Tom Heidenberger and colleagues rode bikes across the country for thirty-three days to commemorate the 33 crew aviation crew members who died on 9/11. But their work has not stopped, and in fact, the group has shifted into a "higher gear" as they have stepped up fundraising activities toward their goal of supporting the creation of three flight crew memorials.
This from Tom Heidenberger: "We just concluded a six week campaign where we raffled off tickets on AA for travel anywhere in the US, Mexico, Canada, and Caribbean. In addition, on Octover 14, we rode from "Bridge to Beach" 85 miles ending at Bethany Blues. All information is on the site.
A side note:
The ARAA Jersey was named Jersey of the Month in September 2006 by Bicycling Magazine! Only about 150 of these Original Jerseys remain. Be sure to get yours. See the site for details.
A final word from AirlineRide:
The Airline Ride Across America is an effort to bring about a public awareness to the forgotten airline crewmembers of September 11, 2001, the sacrifices that they made, and to help raise money for the three memorials dedicated to that day: The Pentagon Memorial, The World Trade Center Memorial and the Flight 93 Memorial.
In the spring of 2006 a couple of airline employees noticed that the crewmembers who were killed on 9/11 were no longer on the "radar screen". Sadly, in the War on Terror, which began on September 11, 2001 the first combatants of that day were being slowly forgotten.
The five original riders and Sheri Burlingame began on April 2, 2006 in Los Angeles telling the brave story of the 33 crewmembers and their sacrifice as they rode their bikes across the United States.
The ARAA is a symbolic effort to raise public awareness to the airline crews of September 11, 2001 and help raise money for the three memorials dedicated to that day: The Pentagon Memorial, The World Trade Center Memorial and the Flight 93 Memorial.
While the Ride has crossed the "finish" line, at the Pentagon on May 9 (each day of the Ride was dedicated to a crewmember who perished on September 11, 2001), the Ride has just begun by crossing the "starting" line of commemorating and paying tribute to all who died that day especially the flight crewmembers of the four airliners, the "First of the First Responders" and the ultimate sacrifices they made. The ARAA, through its various activities will continue to tell the story of 33 brave airline crewmembers, will continue to tell the story of September 11, 2001, and most importantly will continue to tell of the need to take politics out of getting the 3 memorials of 9/11 built.
The ARAA is the charity (501-3C) whose sole purpose is to raise funds for equally for the three memorials of 9/11. There is no better way to honor these 33 individuals than the Airline Ride Across America presenting a large check in the memory and in the honor of the fallen crewmembers to the three memorials of September 11, 2001.
The ARAA will help facilitate the completion of these Memorials and give the 3000 families and America a place to honor, a place to remember, and a place to reflect on the lives and the sacrifices made by the victims of that day.

---
UPDATE: LeRoy W. Homer Jr. Foundation
www.leroywhomerjr.org
On the Foundation's site, find information about LeRoy W. Homer Jr. and his distinguished career, including his desire to support young people and help them gain the opportunity he did to become a pilot. As such his Foundation holds golf tournaments and other fundraisers to support this goal of raising funds for scholarships.
As Heather Thorpe, the media coordinated, said: "The scholarship application will be going up this month on the website for anyone who is interested in applying."

Contact: Heather Thorpe
Media Relations Director
(404) 306-0844
www.leroywhomerjr.org
See photos from CAUSE's dedication of crew memorial above.


---
UPDATE: The 9/11 Flight Crew Memorial Foundation
www.911flightcrewmemorial.org
The 9/11 Flight Crew Memorial Foundation has designed and is planning to construct a memorial in the DFW area.
The group, spearheaded by Dean Thompson, is working to raise funds, and continues to make progress. To support this effort see www.911flightcrewmemorial.org for more information.


---
YOUR COMMENTS


Below, you can contact our participating charities directly, or contact us and we will pass your inquiry along. Also, if you know of a charity that would like to participate in ReclaimingTheSky.com, tell us.