Essay Judges

United Airlines flight attendants convened a group to plan charity projects. The projects served as tributes to their UAL colleagues on Flight 93 from Newark that crashed in Shanksville, PA and Flight 175 from Boston that struck the South Tower in New York.
The essay competition will start in January, 2021 and will run through 2021. It will culminate in September, 2021 as part of a tribute to 9/11 heroes on the 20th Anniversary of 9/11.
The essays will be processed by veterans from the Edge4Vets program in the Human Resiliency Institute at Fordham University – and passed to the judges for consideration in four categories:
Airport employees
Airline employees (flight attendants and pilots)
Aviation students
High school students
We are inviting aviation employees, including airport workers and flight attendants, profiled in "Reclaiming the Sky" to serve as judges.
Announcement of the judges will be made when the program is launched in January, 2021.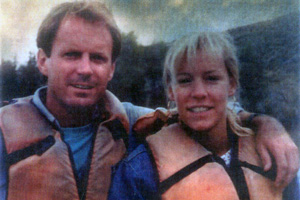 Ken and Jennifer Lewis, husband and wife flight attendants on AA Flight 77 on 9/11.
See more photos of courageous airport and airline employees profiled in "Reclaiming the Sky."