20th Anniversary of 9/11
Resiliency Essay Competition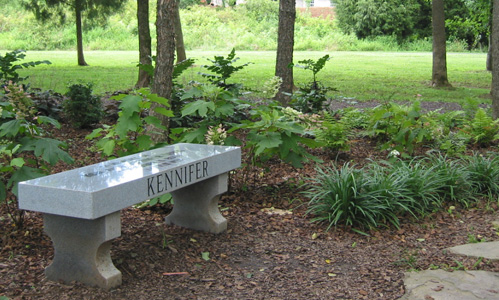 The "Kennifer Bench" sits in a garden in Culpepper, VA created by Ken and Jennifer Lewis' American Airlines Flight Attendant colleagues. The garden and the bench are a living tribute to the Lewis' who lost their lives on AA Flight 77.
The essay competition gives today's generation of airport and airline employees – and students - an opportunity to tell how lessons they learn from the generation of 9/11 aviation heroes profiled in "Reclaiming the Sky" can help them meet Covid 19 challenges.
See news stories about the contest.
Four categories:
Airport employees
Airline employees (flight attendants and pilots)
Aviation students
Special category: high school students
Winners will be announced in September, 2021 – as part of the 20th anniversary commemoration of 9/11.
Resiliency helps us not simply endure but prevail. This essay competition conducted by the Human Resiliency Institute at Fordham (starting January, 2021) gives today's airport and airline employees, as well as aviation and high school students (some of whom were not yet born on 9/11,) a chance to tell how they can apply lessons of courage from the heroism of the 9/11 generation to help them prevail against Covid 19 and move forward with their lives.
HERE'S THE QUESTION
Tell in 500 to 700 words how you can apply lessons from acts of courage and resiliency shown by aviation employees profiled in "Reclaiming the Sky" to help you overcome Covid 19 challenges you face in your life.
"Reclaiming the Sky," by Tom Murphy, tells the story of a group of aviation employees in Boston, NY and Washington, DC, who came to work on the morning of September 11, 2001 expecting a normal day. Instead, they found themselves in the middle of an attack on America, one in which the aviation industry was used as the means. Despite great personal losses, including losing family and friends, they responded with courage that day and in the weeks and months that followed.
Covid 19 is a different kind of tragedy, but one with a devastating impact. The courage shown by the 9/11 generation can be an inspiration to help today's generation rebound from Covid 19 and find the strength to rise up in the face of personal and professional challenges - to move forward. Join in, write an essay and participate in your category.

Tom Murphy
Director, Human Resiliency Institute at Fordham University, and President, Service Institute
Contact Tom at: TomMurphy.org