"Claiming Your Sky"



Teaching students "Life Lessons" from stories of aviation courage on 9/11.

Download Program Description
---
Sue Baer, former General Manager of Newark Liberty International Airport (now GM of JFK), participates in a class with Newark students taking the "Claiming Your Sky" pilot program. The final class of the "pilot" was held in the Port Authority's airport conference room, the site of the first air traffic control tower in the US.

"Claiming Your Sky," gives high school and college students an opportunity to study the courageous actions of aviation professionals profiled in the book "Reclaiming the Sky: 9/11 and the Untold Story of the Men and Women Who Kept America Flying," and learn "leadership principles" they can apply to their own lives.
Students identify how the subjects' positive actions led to positive results.
Students work backwards to assess how those actions followed from wise choices, and how those choices were informed by "core" beliefs and principles around duty, responsibility and accountability.
Students learn how to apply these "leadership principles" to their own decision-making processes to help them move forward with confidence. That in turn makes them attractive to employers.
The program has a "jobs component" – the program works with the Council for Airport Opportunity to create a "bridge" to aviation employers that can lead to careers in aviation.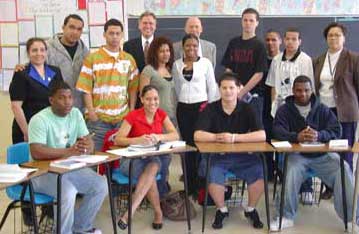 The photo above shows Newark public schools students participating in the "pilot" program in March, 2007 – part of a collaborative effort between the Council For Airport Opportunity, Newark's "School to Work Program," and the Reclaiming the Sky Institute.
In May, an adaptation was offered for students at Aviation High School in Queens. The Institute and Vaughn College in Queens will adapt the program for 300 Vaughn students in the fall. Additional expansion in the NY/NJ area, as well as nationally, will follow.
How the program for students got started:
- In November, 2006, Tom Murphy, the book's author, and Terri Rizzuto, the United Airlines station manager at Newark on 9/11, were invited by Chaminade High School on Long Island to speak to 1600 students about the themes of courage in the book.
Students showed keen interest to learn about aviation workers on 9/11, including those in Boston, New York, Washington – and with American and United Airlines. The students wanted to know how the people in the book, ordinary Americans, found the strength to perform at extraordinary levels. That led Tom to create a curriculum around the "leadership principles" in the book.
An essay competition was offered for the Chaminade students. Read more about the Chaminade presentation and the winning Chaminade essay by Joe Crapotta, a freshman.
RTSI joins with Newark public schools to introduce a "pilot."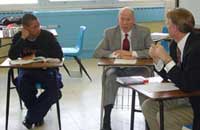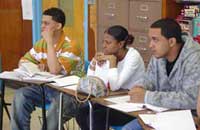 Tom met with the Port Authority's John Jacoby (shown above talking to the Newark students) and Newark airline station manager council chair, Stephanie Vigilotti, both of whom serve on an advisory committee with Newark's Barringer High School, to explore expansion as a regular class offering.
Newark's "School to Work" program joined as a partner, led by Jerry Bruno, Jennifer Mitchell and Barringer's Bob Palumbo. In March, a four week "pilot" was offered.
Below Judee Beyer, a United Airlines flight attendant, answers questions from the students, as Tom Peitz of Fed Ex and John Perry, director of Newark's Council for Airport Opportunity, listen.

Read a support letter from NIAAMCO, The Newark Liberty International Airport Airline Managers Council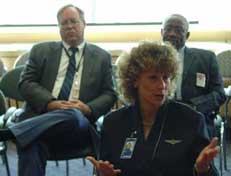 Students' essays tell what they learned:
The students in the "pilot" were ESL students, meaning English was not their first language. Yet they read the book in English and wrote their final essays in English. Below are lessons they say they intend to apply:
1. "I learned how to connect, communicate and recover after a big loss."
2. "I learned brave people can teach us how to react in a crisis."
3. The book is important because I learned how to make decisions in hard moments. I learned this from Captain Charles Burlingame, who was the pilot on Flight 77. He was hard-working. He died fighting back. I learned how to be responsible and a hard-working man from Captain Charles Burlingame.
Pilot Program at Aviation High in Queens.:
Read Denis Hamill's story in the NY Daily News about the pilot program at Aviation High in Queens.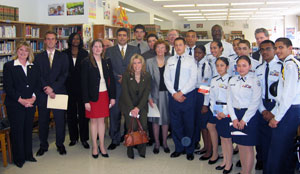 Aviation industry professionals and academic and
political leaders join the students at Aviation High.
For more information, or to suggest a high school and/or college that may wish to participate in "Claiming Your Sky," contact Tom Murphy at tom@reclaimingthesky.com, or call 360 738 3190.