Essay Judge:
Cedrick Fulton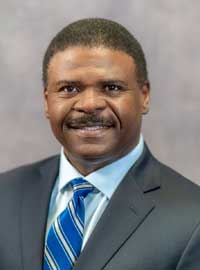 Cedrick worked with many of the Port Authority employees featured in "Reclaiming the Sky" during his tenure at the Port Authority of NY and NJ.
Before retiring, he served as President of the Triborough Bridge & Tunnel Authority (TBTA) for the NY Metropolitan Transportation Authority. He led the final implementation of an all-electronic tolling system that serves 1 million customers daily, collects $2 billion in annual revenue, improved travel time by 32%, and reduced toll plaza collision rate by 41%. Also, he propelled the completion of $500M of Super Storm Sandy Tunnel Restoration Projects to smooth completion at the Hugh L. Carey and Queens Midtown tunnels.
Previously as a Director and Deputy Director with the Port Authority of NY & NJ (PANYNJ), Cedrick progressed through the ranks to provide strategic leadership for management and oversight of the Lincoln and Holland Tunnels, the George Washington, Outerbridge Crossing, Goethals, and Bayonne Bridges. He also oversaw one of world's busiest bus terminals—Port Authority Bus Terminal (PABT) as well as the George Washington Bridge Bus Station. His accomplishments include leading a departmental 10-year, $10B mega-capital program, including the new Goethals and Bayonne bridges.
Cedrick began his career with the Port Authority of NY & NJ, progressing through a series of general management positions. In customer-oriented, operations-based and logistics-focused roles, he pursued ways to improve efficiency, reduce costs, and enhance customer service.
He served 8 years in the United States Air Force before starting his career.
Upon graduating with a Bachelor of Arts degree in Business Management from Saint Leo College in Tampa, FL, he went on to earn his Juris Doctor from Seton Hall University in Newark, NJ, where he was admitted to the New Jersey Bar in 1997.
Currently, he is on the Board of Directors of the New Jersey Transit Corporation. He has served on the Board of Directors for the International Bridge Tunnel and Turnpike Association (IBTTA) and for TRANSCOM (Transportation Operations Coordination Committee). He is married to his wife Lisa of thirty-six years and they have two adult children.