Essay Judge:
Eileen Ammiano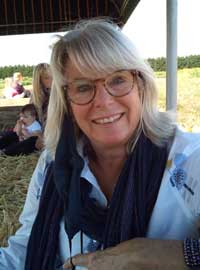 Eileen Ammiano was a United Airlines flight attendant supervisor based at Newark airport on 9/11. She was initially scheduled to be on Flight 93. Her story of that day is recounted in "Reclaiming the Sky."
"So how have I applied resiliency in my life post-9/11 and during Covid 19?" she asks. "My most effective coping tool is to continue to give back. I am a member of a philanthropic organization called CLIPPED WINGS. We are retired and active flight attendants that dedicate our efforts to supporting Special Olympics, children with cancer, the homeless, victims of abuse and canine support for veterans. Our membership stays connected and even now, we are planning, donating and laughing together.
"Working with those whose challenges are much greater than mine keeps me grateful for all the good that I do have in my life. That 'good' starts with my wonderful network of friends, my family and my rescue pup. I live near the beach – my happy place – and I enjoy creating with the bits of nature I collect, most of which I "gift' away. I have found a rewarding part time job in a small high-end retail store minutes from my house. I can use my customer service skills to help my customers pick out the perfect outfit for themselves or gifts for others, creating relationships along the way. It's true! Spending others people money is big fun, even when remaining socially distant and are masked up!
"Here's my message to those who enter this essay competition: Good luck with your writing. Remember, give back, practice gratitude and be patient while we wait for better times ahead…."